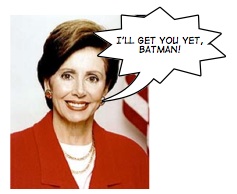 You Joker-faced little weasel – you coast into power riding on voters' real discontent with the Powers-That-Be, then pull this shit: You appoint Rep. William Jefferson (D-Asshat of Louisiana) to the last seat on the Homeland Security Committee. This is the jerk who's being investigated for bribery, who got caught with $90,000 cash in his freezer.
Let's not also forget that she backed bribery-tainted Murtha for majority leader. You've been in office for eight weeks, and you've already screwed the pooch COMPLETELY with regards to your credibility.
Way to turn things around.
Technorati Tags: congress