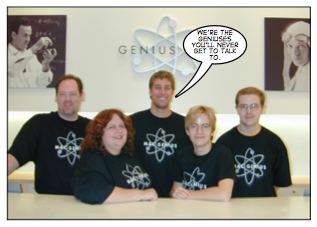 My trusty Mac Book Pro (core duo version) had some problems recently – the right speaker died in it. Not a major deal, but it would be nice to get it fixed before the warranty runs out. Fortunately, I have a newer machine, so I could afford to lose this one for a few days until it gets fixed.
So, on Thursday evening I go down to the Genius Bar at the local Apple Store. They are completely booked. An no, I can't make an appointment unless you pay a $300 premium for AppleCare Pro. FUCK THAT. They tell me to come back in the morning, which I can't do – I work, ya know? Go down Friday evening hoping for a miracle. No dice. Come back in the morning. Finally, I go in as soon as they open in the morning on Saturday. Literally, walk right in the door as they're unlocked.
And the fucking Genius Bar is already booked through 5pm that day. Apparently, what the little twits in the store neglected to tell me was that starting at 8am, there is a secret web site that you can sign up for service for that day. Not that anyone told me about this before.
Huge pile of stupid in that store.
I even asked about something I read about in the Consumerist that was available – drop off your computer and they'll call you back. It's called Quick Drop. They wouldn't offer it to me.
I called Apple Support, and they told me to sign up for the Genius Bar. Since I was so close to the store, they wouldn't send me a prepaid mailer to send the computer back. Could I escalate the situation to someone else? Sure, the people who did that are the Geniuses at the Apple Store.
This is now going on three days, and I can't spend my life fucking around with these little bitches. This is a broken computer under warranty. Fix the damn thing.
Then I remembered – there was an authorized service center in town, just a few blocks away. Drove over there, walked right in, signed some forms and dropped the machine off for service. Done. They even said it would be three days until they could look at it. No big deal – at least I didn't have to sit there for those three days like I've been doing.
But they called my cell on the way home telling me they already ordered the part (a new logic board or something) and it should be in on Monday, and ready for pickup that evening, everything covered under warranty.
THAT is service.
You damned Geniuses can suck the high hard one.
UPDATE: The machine came back on Tuesday, all fixed and everything. Way better experience than the famed 'bar. Again – SUCK IT GENIUSES.
Technorati Tags: apple, genius bar, suck